May 12, 2022
WASHINGTON – The director of Salve Regina University's Nationhood Lab spoke at the American Enterprise Institute last week about the challenges to maintaining U.S. nationhood and how to help overcome them.
Colin Woodard, who directs the project at the university's Pell Center for International Relations and Public Policy, made his remarks as part of a May 4 conference to kickoff AEI's new Center on Opportunity and Social Mobility, which studies the relationship between social capital and societal health, happiness and stability. Woodard presented at a panel alongside two AEI scholars, Yuval Levin (founding editor of National Affairs and author of "The Great Debate" and "The Fractured Republic") and Ryan Streeter (former aide to President George W. Bush and Indiana Gov. Mike Pence.)
"We may not share a common past or religion or enthnography, but we share a set of ideals in the Declaration of Independence, and it's the commitment to those ideals that can hold us together and which is the definition of the American Promise and the American Experiment," Woodard said after showing the profound regional divides that have existed since the continent was first colonized at the dawn of the 17th century.
"But these ideas are badly understood. What do all those ideals mean in the 21st century. How do you talk about them now?" he asked. "That's the work we're doing at Nationhood Lab."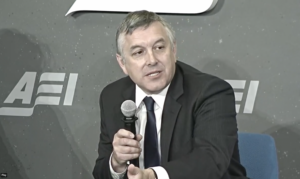 The panel was moderated by Scott Winship, who directs the new AEI center, which has been using Woodard's American Nations regional model in its analytical work. Conference attendees included Brookings Institution senior fellow Isabel Sawhill, AEI fellow Ramesh Ponnuru, civil rights activist and Woodson Center founder Robert Woodson, and Sen. Mike Lee (R-Utah), who delivered the keynote address.
Woodard, author of six books including "American Nations: A History of the Eleven Rival Regional Cultures of North America" and "Union: The Struggle to Forge the Story of United States Nationhood", founded Nationhood Lab, a new project at Salve Regina University which is working to develop and test a story of U.S. purpose and identity that a supermajority of Americans can united behind.